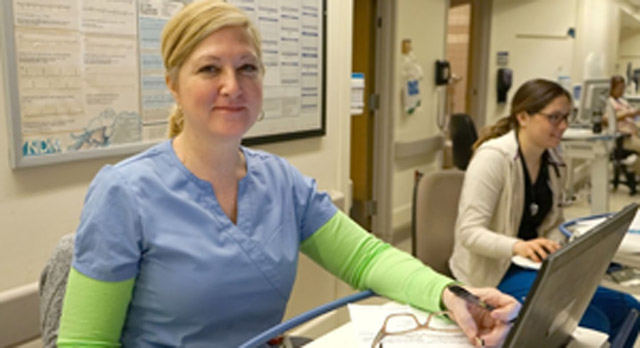 Introduction
Boston Medical Center nurses are leading the improvement of health and health care and strengthening the discipline of nursing through new knowledge, innovations, and improvements. Each day, front-line nurse leaders in every corner of our system of care advance professional practice, clinical inquiry and the delivery of evidence-based care to the patients, families, and the communities we serve regionally, nationally, and around the world.
BMC Professional Registered Nurses
The BMC professional registered nurse holds ultimate responsibility for the provision of nursing care to patients and their families in a variety of settings. These responsibilities include assessment, planning, implementation and evaluation of care for a diverse and complex patient population. The professional nurse attends to the full range of human experiences and responses to health and illness, without restriction. The professional nurse is committed to the primacy of patients; integrates objective data with knowledge gained from an understanding of the patient's or group's subjective experiences; applies scientific knowledge to the process of diagnosis and treatment; and provides a caring relationship that facilitates health and healing. The BMC professional registered nurse is committed to evidence based practice and adheres to the Board of Registration in Nursing rules and regulations, ANA scope and standards of nursing, the ANA code of ethics for nursing, professional organization recommendations, policies and procedures and other regulatory stipulations.
New Graduate Nurse Residency Program
Nurse graduate nurse residency programs assist in the transition to practice for newly licensed nurses. Nurse residency or nurse transition programs reduce turnover and improved critical thinking/ clinical decision making skills thus impacting patient outcomes and nurse satisfaction.
Boston Medical Center has developed a comprehensive new graduate nurse transition to practice program incorporating the Nurse of the Future Nursing Core Competencies. New graduate nurses are hired into the institution in cohorts. The cohort members attends nursing orientation together and then will also attend a series of educational days and brown bag lunches over 6 month period. These activities, besides being educational for their needs also brings the group together promoting social support and relevant discussion of common situations encountered.
The new graduate nurses attend a weeklong generic hospital orientation which is followed by a telemetry course. Then they work their first 4 weeks in the clinical environment doing a Monday – Friday 8 hour days. This schedule provides maximum exposure to new clinical environment, colleagues and patient populations. Each nurse is responsible in collaboration with their preceptor and clinical nurse educator to devise weekly goals.
The new graduate nurse residency includes experiential learning modalities which provided opportunities for assimilation and application of clinical theory and concepts to bedside practice. Hands on equipment skills stations and simulation based learning provided the new to practice nurse with opportunities to use the clinical equipment and simulate clinical decision making and observe the consequences of their actions and decisions. Simulation based learning with relevant realistic scenarios give the new graduate nurse opportunities to manage clinical situations and utilize expert feedback on performance to improve skills and knowledge. Reflective and experiential learning modalities increased the new to practice nurses' confidence in using equipment and gained comfort in their role in patient care.
Exceptional Opportunities for Professional Nurses
Boston Medical Center (BMC) is excited to present a new training program for the experienced registered nurse who is interested in transitioning to a specialty setting. The Transition Residency at BMC will prepare and support the experienced nurse as they enter into a specialty area. The goal of this Residency is to safely integrate experienced Registered Nurses into a new area of clinical practice. This program will be offered annually. This in-house training program prepares experienced nurses to work in a specialty unit outside of their discipline while earning salary and benefits. The program is open to full-time employees prepared with a bachelor's of nursing and a minimum of three years of nursing experience at BMC.
The successful transition of experienced nurses to a specialty practice is a priority for BMC, which is sensitive to RNs' needs and recognizes that something more than a generic orientation is needed. A structured orientation can facilitate the transition to specialty practice and contribute to the retention of qualified nurses and safe patient care. The success of the transitioning RN is assured through a robust program and support from preceptors, mentors and peers. The primary purpose of the orientation program is to provide each nurse with the skills needed to function independently and competently in specialty nursing practice.
Nurses partnering with patients and families to improve systems of care
Boston Medical Center is committed to providing quality care to every patient and family with respect, warmth, and compassion. In an effort to assure this is true for all patients, including those that identify as transgender, Boston Medical Center opened the Transgender Medicine and Surgery Center. This center provides many medical and surgical options for transgender patients including Gender Affirmation Surgery. Nurses partnered with patients and families to improve systems of care at the unit level with the creation of a non-discriminatory, welcoming environment. The Joint Commission Guidelines (2011) and current literature (National LGBT Health Education Center, 2015) state that creating and providing a welcoming environment that promotes and supports a diverse patient population, including LGBT and those receiving Gender Affirmation Surgery, can lead to positive patient outcomes. Nurses have worked diligently to create a welcoming environment for patients receiving Gender Affirmation Surgery. Each nurse has completed culture- competence training for the care of the LGBT and transgender patient population. This training includes not only the cultural competence but also the post-operative surgical care of patient's receiving Gender Affirmation Surgery. To further create a welcoming environment, upon arrival to the unit, the Patient's Bill of Rights and nondiscrimination policy is displayed for all patients and family members to see. All Gender Affirmation Surgical patients receive private rooms so family members or partners may stay with the patient. Being in the hospital can be a stressful and anxious time. Allowing partners or family members to stay with the patient can decrease the level of anxiety and make patients feel accepted and welcome. All patient rooms have new white boards that display icons of both the LBGT Pride flag and the Transgender flag. Transgender and LGBT friendly symbols will immediately signal a culture of acceptance. As a result of the professional nursing staff partnership with patients and families, this welcoming environment supports LGBT and transgender patients and families and creates positive patient outcomes for patient's receiving Gender Affirmation Surgery.
Nurses Improving Care for Healthsystem Elders (NICHE)
BMC has embraced the journey to becoming a NICHE hospital. BMC is committed to improving the care provided to geriatric patients, as they represent the majority of patients on the medical units. A program that bests serve the geriatric population and improve clinical nurses' knowledge and education is the Nurses Improving Care for Health system Elders (NICHE) program and is best practice for improving geriatric care and increasing nurses' competence to care for older adults. Elder adults (those 65 years and older) occupy almost half of all hospital beds in the United States, a proportion that is expected to increase as the population ages and baby boomers retire. Elders are hospitalized more frequently than younger patients, resulting in longer hospital stays and a greater use of resources. Hospitalization can greatly increase the risk to older adults because it affects mobilization and independence, thus making them prone to falls. Other risks include changes in medication regimen, mental status and the potential for skin breakdown. At BMC, older adults are a large part of the inpatient census and are represented on all adult medical nursing units. BMC is implementing the role of Geriatric Resource Nurse (GRN). The implementation of the GRN role is a key component of the NICHE program. The GRN role focuses on obtaining online education through the NICHE learning community to improve geriatric knowledge and expertise at the bedside. NICHE has demonstrated global success in many healthcare organizations, due in part to its support of each organization's unique culture and environment. Every organization is influenced by its nursing practice, in which specific nursing interventions affect geriatric outcomes. NICHE provides organizations with tools and methods for planning and supporting nursing care with best practices that meet the needs of their elder population. The first practice change on the journey to become a NICHE hospital is to develop nurses who are clinical subject experts in the care of geriatric patients. To achieve this goal clinical nurse leaders attended the Geriatric Resource Nurses (GRN) Core Curriculum. They completed the Leadership Training Program for NICHE. GRN certification prepares these nurses to be clinical subject experts in the care of geriatric patients, bridging specific knowledge gaps in the care of geriatric patients. The GRNs are trained to play an integral role in identifying and implementing education strategies that are tailored to the needs of the BMC nursing staff and its specific geriatric patient population. Prior to implementing the NICHE program, a task force (which will include the GRN) was formed to discuss the NICHE recommendation to perform a Geriatric Institutional Assessment Profile (GIAP) online survey of clinical nurses. The GIAP survey assesses organizational readiness to provide quality care for older inpatient adults.
The NICHE Task Force members previewed the overall results and identified opportunities for improvement to guide BMC's training and development plan for improving geriatric nursing care through best practices. The survey focused on geriatric healthcare knowledge, staff attitudes and perceptions about working with older adults, specific practice issues and the geriatric care environment. The results provided a baseline for developing an evidence-based geriatric education program that focuses on both the clinician and patient in a hospital environment. The survey is part of a larger NICHE database in which BMC responses are benchmarked to similar type hospitals. The NICHE program requires organizational commitment. It is designed to improve the quality of care for all older adult patients by increasing awareness of geriatric issues, improving staff competence in nursing care of the elderly and supporting the implementation of hospital geriatric protocols.
NICHE-designated hospitals are recognized for having achieved excellence in the following areas:
Enhanced staff knowledge and skills
Greater patient satisfaction
Decreased length of stay for older adult patients
Reduction in costs associated with hospital care for the older adult
Improved compliance with regulations and industry standards.
The patient population is aging and improving geriatric nursing competencies is more important than ever.
Nursing Simulation Team Training Education
Professional nurses are provided the opportunity to participate in simulation activities, including simulation team training. Health care providers within the hospital work together as teams. A highly effective healthcare team that trains and works together provides efficient quality evidence based care to all patients. During an emergent situation the ability of a team to work effectively together for the sake of the patient is a priority. There are many team functioning concepts that healthcare providers do not have opportunity to utilize as these emergent situations now occur less frequently with earlier recognition programs. Because these situations are high in acuity, a trained and knowledgeable team has the likelihood to have better outcomes. Simulation based education allows a platform for healthcare professionals to practice the skills needed to care for a patient in an emergent situation. Simulation education best practice suggests that the members of the teams practice together, reflect on performance and identify both individual and team performance gaps. BMC provides many simulation based programs to allow staff to participate and improve team functioning.
Meet Our Team
Nancy Gaden, DNP, RN

Senior Vice President and Chief Nursing Officer

Nancy Gaden joined BMC in early 2014. Nancy comes to BMC from Hallmark Health System, where she served as System Vice President, Patient Care Services/Chief Nursing Officer. In this role, she was a key member of Hallmark's executive team and directly oversaw patient care services. Under her leadership, Hallmark Health received Magnet Designation from the ANCC. Prior to her tenure at Hallmark, Nancy served in senior Patient Care Services/Chief Nursing Officer roles at Caritas St. Elizabeth's Medical Center, South Shore Hospital and Milton Hospital. She received her BS from the University of Rochester, her MS from Boston College and graduated with her Doctorate in Nursing Practice from Regis College.

Cheryl Tull, MS, BSN, RN, NE-BC

ACNO/Director, Medical-Surgical Services

Cheryl joined BMC in 2005 as a Staff Nurse, she has held the position of Charge Nurse, Nurse Manager, Associate Director and currently Director of Medical/Surgical. In 1994 she was awarded a Chancellor's Scholarship and received her BSN from U-Mass Boston, she then went on to receive a MS in Administration from Boston College where she was presented a "Distinguished Service Award." Prior to BMC, Cheryl worked in Human Service Management for over a decade integrating program management with finance and administration. Her accomplishments include developing and enhancing the financial skills of mid to senior level managers and integrating program development with staff through empowerment and education.

Diane Hanley, MS, RN-BC, EJD

ACNO/Director, Nursing Education, Quality & Professional Practice

Diane Hanley has many years of nursing leadership experience in both the academic and community hospital setting where she focused predominately on the development of professional nursing practice using the Magnet Recognition program and is committed to optimal outcomes for patients, families, nurses and the community. Diane Hanley serves as the delegate for the Board of medicine from the Board of Registration in Nursing. She received her baccalaureate degree from St. Anselm College, an MSN from Salem State University and attained an executive juris doctorate with a major in healthcare at Concord Law School.